Absolutely, and here's how …
More and more Baby Boomers are starting their own businesses after retiring or approaching retirement.  Retirement doesn't always come easy and there is often a real need to continue working in some capacity whether to keep the mind active, for additional income, or both.
I'm not speaking of some menial, casual Mr Fix-it type jobs but something which is challenging (not overwhelming) and through which self-worth can be maintained.
More than any other age-group, seniors and retirees are the most determined to see a thing done properly and have been brought up with the tenacity and single-mindedness to succeed in whatever is ventured into.
Your home-based business should allow you to choose how much time you wish to spend on it and consequently the level of income that is proportionate to that effort.  You will enjoy learning how to set up your business and operate it profitably because that is how you are.  You will want and expect to receive the best possible support and training to achieve success.
You won't mind spending money to achieve your goals but will take great care to ensure what money you do invest in your business will be well-considered and justified.  Introducing Wealthy Affiliate.
This Internet Marketing program was established in 2005 and today is the premier online training facility with immense learning opportunities including how to create your own website and have it hosted under the one roof together with probably the most interactive and helpful community.  So, you can be comfortable in the knowledge that Wealthy Affiliate has been around for a long while, is stable and reliable, and will be around for a very long time more.
It is not a stagnant presence either, the owners – Kyle and Carson – have developed the facility to meet the constant and ever changing needs that online marketing demands in terms of both techniques and technology.
Everything you need to start and grow your online business is provided by this superb, all-inclusive platform!  And I mean everything!
And what's more, a large amount of the training is completely free.  This is the initial stages of your learning and is explained later in this article.
What is Affiliate Marketing?
But before looking in detail at Wealthy Affiliate platform, it is necessary just to define the concept that is Affiliate Marketing.
While the term Internet Marketing is a catch-all one relating to the many forms of earning a living online, Affiliate Marketing is the promotion of other people's or other business's goods or services by you on your website in return for a commission when you are successful in introducing buyers to that other party's products.
There are literally thousands of products and services available to purchase or hire via the internet – you only need to look at the volume of activity that sites like Amazon and eBay generate to see that and, yes, you can promote products from those online stores on your website and earn a commission if you introduce a buyer to them.
It would be a nightmare however to try to promote every item on those stores – it just wouldn't be practical.  So the answer is to choose something that is of interest to you, that you really love and would be happy to promote.  It could be a hobby, a passion, something that you are interested in and could talk about for ever if asked!
Then, having chosen your subject (niche) you will build a website – as shown by Wealthy Affiliate – and tell the world, or at least the world's inhabitants that share your interest in your niche, all about it and how to buy the products that relate to your subject through your website.  In that way you will earn yourself a commission.  Do that a few times and you are earning yourself a decent income.
The Wealthy Affiliate website illustrates that procedure as follows:

Your training at Wealthy Affiliate will show you in great detail just how that simplistic process will translate to your own activities.  Even if you have never built a website before you will be given the tools to build one now for free in the subject of your choice.
You'll learn that writing content is of paramount importance in attracting like-minded readers/viewers to you site and engaging with them both now and ongoing as you enhance your website pages with compelling articles and discussion.  You will even be shown how and where to get good written content because you believe you aren't any good at writing!
You will be taught that the use of Keywords is invaluable in attracting your audience and you will learn how to find those keywords and phrases and apply them.  In doing so you will come to understand the importance of Search Engines such as Google, Bing etc in having your website and its content noticed and visited.
And what's more the teaching isn't vested in just one or two experts, it comes from your fellow students and those going through the same training as you, sharing their experiences and successes and simply learning from each other.  Community is an extremely important aspect of belonging to Wealthy Affiliate with over 400,000 members joining up over 10 years, a significant proportion of whom are in their maturer years.  Such a diverse age range, interest range, experience range shows that we can all still learn and give such a lot from and to each other.
It Takes How Long?
The work ethic is strong with the Baby Boomer generation and this fits very nicely into the ethos of Wealthy Affiliate.  As I stated in an early blog, if you are looking for Wealthy Affiliate to create overnight riches for you then it isn't the vehicle you're looking for.  It certainly doesn't claim to provide you with wealth overnight and indeed states quite clearly that rewards will take time and effort to be acquired.
Just how long it takes to be earning a living is explained in a brilliant Wealthy Affiliate article written by a young man named Jacob Highley (jacob@financialsuccessbook.com) – see here for the full piece – which can be summarised thus:
"The average for people who work 7-10 hours a week, will be financially free in 3-5 years. This is a very reasonable estimate and is actually proven with WA as most people who work at least an hour a day per week get financially free in about 3 years".
This is an average, an indicator.  There are those on Wealthy Affiliate that begin earning within weeks of developing their websites, for many it is 3-6 months.  Jacob is stating that by his formula it will take from 3 years to be financially free, that is to say earning a solid income.
The other point to note here too is the emphasis, again, on the need to work.  You may be retired but you will need to put in the hours to be successful.  Sounds familiar though doesn't it?
Redefining and Reinventing Yourself with Wealthy Affiliate
Redefining and reinventing yourself is a popular notion, especially later in life. A message that asks, "What can I do to reinvent myself?" is extremely poignant.  You may have retired from the daily grind of 9-5 but that doesn't mean you are not seeking new ventures to keep yourself physically and mentally fit.  Heavens, there are only so many rounds of golf or ends of bowls that you will want to partake in.
Life continues to be a series of opportunities to improve yourself and if being independent is integral to your well-being then the empowerment of small business ownership may be for you.
Wealthy Affiliate provides the wherewithal for you to become yourself again.
Learn with an open mind and a passion to succeed and Wealthy Affiliate will show you the road to be travelled as well as the vehicle in which to do it.
So Where Do I Start?
If you're ready to dive into the wonderful waters of Wealthy Affiliate, click this banner now:
There is no obligation, no commitment, nothing to fear.
If however you need more convincing that it is right for you, read on …
This Is Not a Trial
Your Starter membership is not a free trial.  That should be made clear from the off.  Wealthy Affiliate actually give you access to their full beginners training course, completely free, for as long as you choose!
And this is the 10 lesson training program you get access to:
And these are not theoretic lessons but actual hands-on with tasks to be completed at each of the ten stages.  They are fun and educational and as you know when learning is fun more understanding is had.
Throughout these initial 10 lessons (and I did say initial – see below for the further training programs) you will:
Learn how to immediately get "immersed" in the awesome community at Wealthy Affiliate;
Discover the process of earning revenue online;
Create and start working towards a list of new financial and non-financial goals;
Gain instant access to over 590,000 niches;
Choose your starting point NICHE for your business;
Build your very OWN niche website;
Learn how to optimize your website using WordPress;
Learn how to create quality website content (that gets ranked);
Understand the keyword research process;
Quickly and easily create your own low competition keyword lists.
And, I repeat, that is all for free, for as long as you like.
From there, you will probably want to continue the learning process throughout a further 4 levels of courses:
And it doesn't stop there: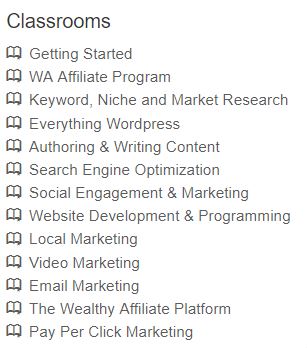 And even then it doesn't stop there as there are further training programs in which you can participate:
Affiliate Bootcamp Training
A training program for anyone interested in promoting the WA platform as their niche
Training By Members
In addition to the  main training, above, there are literally hundreds of training modules created by members of the WA community.
How Much Does Membership Really Cost?
As already mentioned, the basic membership and training truly is free.  Here you can really get a feel for what Wealthy Affiliate is about.
You then have the option of moving on to the next membership level – Premium.  You will have completed the free lessons, got your websites started, learned a lot about affiliate marketing leaving you itching to learn more.  Premium Membership is the Learn More.  Here you will really develop your business.
The cost of taking this step up is $29.90 per month if paid annually in advance or $49.00 per month on a casual basis.
Here is what you get in each membership category:
So What's the Catch?
No catch but for Wealthy Affiliate to work for you, you will need to be dedicated, focussed and prepared to put in the effort.
You may feel somewhat overwhelmed with the amount of information that is available and presented to you, especially at first when you are keen to absorb as much knowledge as possible.  Resist that temptation and stick to the training program.  Share with the community too in both your joys and your concerns but be careful not to get bogged down in the social side of Wealthy Affiliate (unless of course you want to) as it will eat away at your time and direction
Ready to Dive In?
Click the banner above right now.
Still Not Sure?  Have Some Questions?
Will Wealthy Affiliate Work for Seniors?  Hopefully I have been able to give you opportunity to answer that question for yourself now.  Just remember the only thing you will stand to lose by looking further into this great program is a little of your retirement time.
If you would like answers to any remaining queries I invite you to use the comments box below or to contact me directly at support@steadfast61.com.  I shall be more than happy to assist.
Enjoy Wealthy Affiliate and your business, whatever you decide it should be.
Adrian Stead